I've always loved to draw. We've all acquired certain skills in our lives, and like others, I want to share the fun and the results of my hobby with you. Today I'm a member of an international organization of caricaturists, but I got my start with my high school newspaper over 45 years ago! Enjoy these pages as I share what I've both learned and taught others about how to do it well.
At my "Fun with a Pencil" website, I'm going to talk about how I caricature and why. I'll give a bit of history on the subject itself, as well as some background on how I got involved in it. I might also include some instructions on how to draw caricatures and cartoons. The key is mastering the art of drawing emotional expression.

Caricatures are exaggerated but recognizable sketches or portraits of real people that comically enhance the facial features of the subject.

please VISIT my:
AND HERE'S LEE: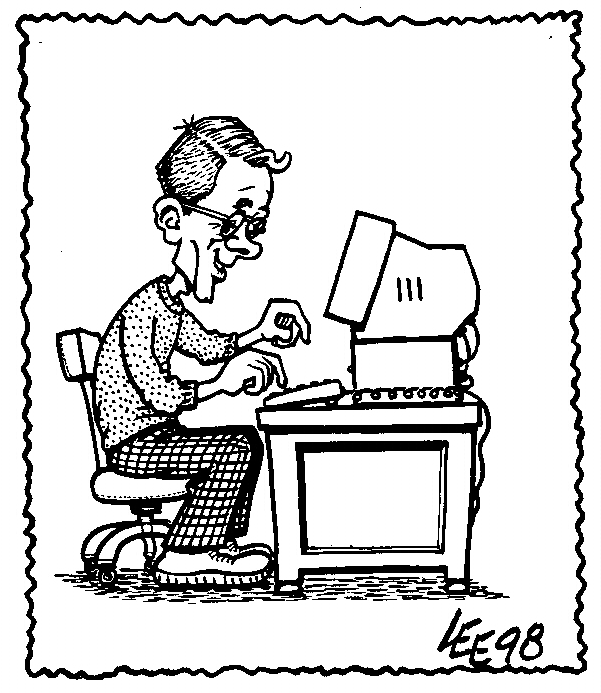 Here am I, writing to you about the fine and enjoyable art of Caricature!
Any tips or tricks I've acquired through the years that I relate here, as well as art work by myself or others that I feature here, is protected by copyright law. Please email me at the "Contact Me" link below before you link to or re-use anything elsewhere. And, of course, I'll include lots of caricatures or pictures of me enjoying myself caricaturing in the many settings in which I've worked over the years.

Finally, be sure to drop me a note if you appreciate this site, want further information, or have a suggestion for me. The "Contact Lee" link is clickable below!